Alcolytes are children, youth and adults who assist in worship by symbolically bringing in the "light of the Christ" to light the altar candles.
As an alcolyte, your ministry is important because you will be helping everybody else in church to worship God. You are also becoming part of a very long tradition that is more than 1700 years old! Since ancient times light and fire have reminded people that God is here with us. When you, as an acolyte, bring the light into the Sanctuary and light the candles, you are reminding the congregation of God's presence with us and the words of Jesus: "I am the light of the world."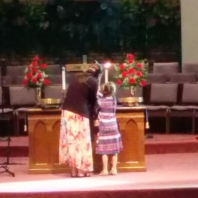 Modern day acolytes are best known for lighting candles on the communion table. This practice started around 800 A.D. when large candlesticks were carried by the acolytes and placed on or near the communion table.
Soon the candlesticks began to appear on the communion table itself. Because of the added height, a candle lighter was developed to reach the top of the candles. The candle lighter provided a safe and decorative container for the tapers carried in the processional.
Many people like to think of the two candles on the communion table as reminders that Jesus is both human and divine. At the end of the service as you carry the lighted candles out of the sanctuary, you are reminding the worshippers that God is with us in all places at all times.
If you would like to lean more about becoming an alcolyte, please call the Church Office at 352-854-9550.