Funerals
Funerals and Memorial Services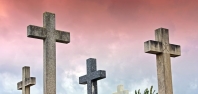 Funerals, in the Christian Church, are a celebration of one's life and resurrection.  It is a time when we acknowledge the faithfulness of God who provided a way for those who believe in God to receive eternal life.  It is also a time when we remember that we all remain dependent upon God's mercy, love, 
and grace.  Scripture reminds us that God comforts those who are experiencing grief.  Therefore, Christian Funerals and Memorial Services are also a time when the community of faith draws near to one another in payer, support, and caregiving.  
Services are scheduled based on the availabilty of both worship spaces and the officiating pastor.  We do all we can to accomodate family preferences but please be sure to have your date finalized with one of the pastors prior to running the information in an obituary.
Each funeral is planned in consultation with the loved one or family of the deceased.  During the services, we tell of the mighty work of God as well as share special moments of this person's life. Please bring with you to a funeral consultation the following:  list of favorite Scripture verses, list of favorite hymns or songs, any poems or special readings to be considered, pictures of your loved one, and so forth.  Please also consider whether you would like to have a pianist, organist, other instrumentalist, or soloist involved in the service.  The pastor will help you make contact with these persons and to organize the service.
We acknowledge that grief is a journey and a healing process.  We also acknowledge that each person's experience of grief 
differs greatly depending upon the circumstances of death, the relationship of the deceased and the loved one, and much more.  Therefore, we encourage those who have recently lost a loved one to be open to some means of ongoing support and care via our Congregational Care Ministry Team.  Please contact the Church Office to learn more about living through the journey of grief.