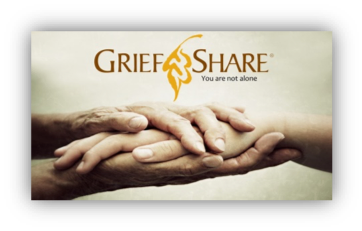 GriefShare is a special weekly seminar and support group designed to help you rebuild your life after losing a loved one. Our group is led by caring lay people who have experienced loss and grief and want to help you through the difficult days ahead.
The seminar is 13 weeks in length and is offered several times each year.    Anyone who has experienced a recent loss or still grieves a past loss, will find at GriefShare others who have the same emotions, questions and fears.  Here you will hear practical suggestions to help you adjust to your new normal. You will also find comforting scriptures where you will find hope.
Join us Monday afternoons from 1 p.m. to 3 p.m. in the Gathering Place located to the right of the sanctuary, in building #1.  For additional information, contact Tina McKinley, Group Facilitator, at 407-432-0164 or Rev. Drena at dmiller@ocalawestumc.com.