Operation Christmas Child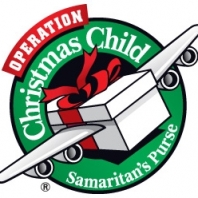 Operation Christmas Child provides shoe-boxes filled with items needed by childern around the world. A shoeboxe is filled with items such as toothpaste and toothbrush, paper and pens and pencils, clothes, a fun toy and even hard candy. Most important, Operation Christmas Child Shoeboxes provide a great opportunity to share the gift of salvation found in Jesus Christ.
Operation Christmas Child begins at Ocala West in September as we invite every attender to bring different items each week. For example, one week may be paper and pencils and another week would be toothpaste and toothbrushes. Then, in early October we have a packing party where we pack hundreds of shoeboxes with the items donated throughout September. But the fun doesn't end at the packing party.
Throughout October, Shoeboxes are available for individual and families to pack their own Operation Christmas Child Shoebox. Finally, all the packed boxes are brought into the Sancturary in mid-November to be prayed for by the conregation. On this Sunday, we ask God to bless each child who receives a Shoebox and – most importantly – that each child may hear and receive the Good News of Salvation found in Jesus Christ.