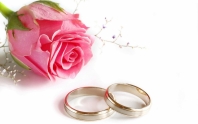 Weddings are a sacred and meaningful Christian covenant worship service.  These special services are planned while meeting with one of the pastors and with special consideration of each couple's love story.  During Christian weddings we acknowledge that we learn to love and serve one another in marriage by looking to Christ's examples of sacrificial, unconditional love.  We also know that we cannot live our wedding vows faithfully and purely on our own.  In Christian marriage, we seek the guidance and power of the Holy Spirit to learn how to be humble, to give forgiveness, to receive forgiveness, to grow in communication, and to serve in God's Kingdom together.  We believe that Christian marriage is called by God so that those joined together can better serve in Christ's Kingdom than they could being apart.
If you would like to learn more about weddings at Ocala West UMC, please contact the church office.  The dates of weddings are finalized after meeting with one of the pastors.
We encourage and most often require premarital counseling prior to officiating at weddings. Please plan ahead to allow for these special times of learning and growing in understanding of each other and what it means to live in Christian marriage.