Wednesday Night Prayer Service
Wednesday Nights at 7:15 p.m.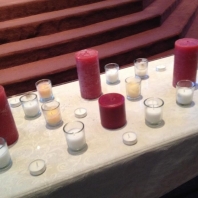 Every Wednesday night at 7:15 p.m. our sanctuary becomes a "House of Prayer."  The lights are set low, the music is softened, the Scriptures are read, meditations are shared, prayer concerns are lifted, and joys and thanksgiving are expressed.  This service is open to anyone who wants to grow in their experiences of prayer or who is seeking prayer on behalf of themselves or a loved one.  An extra special quiet time is included in each service where people are invited to pray where they are or kneel at the altar.  During this sacred quiet time, all are also invited to light candles as a tangible act of prayer remembering the needs of loved ones, our community, and our world.  Some nights also include prayer cards, special music selections, prayer stations, communion, anointing with oil, and more.  We hope you will come away with us to this quiet space and pray a while.